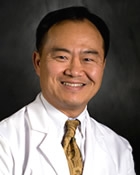 Cornerstone Eye Associates
585-328-0153
Steve Park, M.D. Office Location
2300 Buffalo Road
Bldg. 700
Rochester, NY 14624
(585) 328-0153
About Steve Park, M.D.
Steve B. Park, M.D. is the founder of Cornerstone Eye Associates. After receiving a B.A. degree in chemistry from Northwestern University, he earned his M.D. degree from the University of Illinois at Chicago in 1986. He completed a medical internship at Beth Israel Hospital in New York City and then an ophthalmology residency at Case Western Reserve University Hospitals in Cleveland, Ohio. He came to Rochester to finish his sub specialty training in the Cornea and External Disease at the University of Rochester, NY.
Dr. Park's special interests are in cataract and corneal transplant surgeries, in addition to medical glaucoma. He has published over 25 articles and abstracts in peer reviewed medical journals. He is the first cataract surgeon in Rochester to have performed topical anesthesia cataract surgery and provides the most up to date technologies and techniques in the field. He is also the only corneal surgeon in Rochester to provide collagen cross linking for keratoconus and performs the latest corneal transplantation techniques such as endothelial transplantation.
Dr. Park is Board Certified by the American Board of Ophthalmology and is a Fellow of the American Academy of Ophthalmology. He is an active member of the American Society of Cataract and Refractive Surgery (ASCRS.) He currently is an assistant clinical professor in the Department of Ophthalmology at the University of Rochester School of Medicine.
Dr. Park's professional memberships include:
American Academy of Ophthalmology (Fellow)
American Society of Cataract and Refractive Surgery (ASCRS)
Medical Society of the State of New York
Monroe County Medical Society
New York State Ophthalmological Society