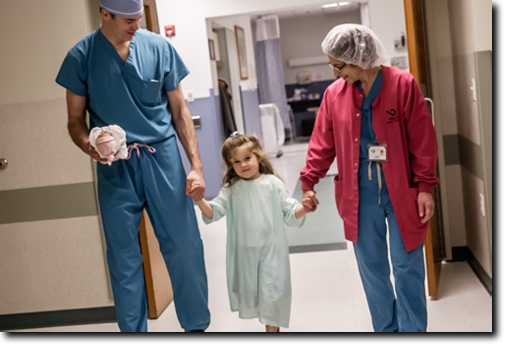 Helping even the littlest ones feel comfortable
during their visit
Patient Information
Welcome to Brighton Surgery Center, a facility designed and built to provide patients, physicians, and surgeons the latest capabilities and amenities in outpatient surgical and procedural care. This page will provide you with information you need to make your outpatient surgery/procedure go smoothly.
Please visit the FAQs page for answers to common questions about your visit to Brighton Surgery Center.
A Note to Friends and Family
A friend or family member must remain at the center with the patient and drive the patient home. As you wait during the surgery or procedure, you'll enjoy a waiting room that features comfortable chairs, two TV sets, and wireless Internet.
Comments to BSC
We value your feedback. Please complete a questionnaire about your experience. Your comments will let us know what we are doing right and what we need to improve.
BSC adheres to standards set by the AAAHC, Association for the Accreditation of Ambulatory Health Care.
What is the "Brighton Difference"
There is a lot of talk about the "Brighton Difference". When you visit our facility, you are likely to hear our employees mention it. Quite simply, the Brighton Surgery Center just isn't like other surgical facilities.
Brighton is truly a "Freestanding Ambulatory Surgery Center". We have no ties to the hospitals, we don't have a hospital-style bureaucracy, we don't use a hospital-based anesthesia service, we are 100% physician owned and operated,* and we focus on the patient.
How do we do it? Well, its actually simple:
Focus on the patient, assist them in understanding the services we provide, and get them back to their normal lifestyle as fast as possible.
Promote a healthy lifestyle
Support our Community
Treat employees as part of a team and listen to their comments and concerns
Provide staff with the high quality tools they need to do their jobs and provide them with on-going continuing education to keep their skills current
Make everyone (patients, staff, vendors) part of the Quality Improvement process
Our operative word is "collegial", we believe all members of the staff deserve equal treatment. We all have the same ultimate objective - improving the health of our patient. This translates into better patient outcomes, high satisfaction rates, and a healthy community.
We are committed to providing the Rochester community with the finest in surgical services. We didn't become the top surgery center in Rochester by accident; it's the result of the hard work of our employees and a focus on the patient that makes the difference.
*Your referring physician may have a financial interest in the facility.
Brighton Surgery Center is located at 980 Westfall Road, just east of South Clinton Avenue in the Rochester suburb of Brighton. This 20,000-square-foot facility, designed explicitly for outpatient surgical and medical procedures, features:
Free parking next to the building
Handicapped and wheelchair accessibility
Covered portico for easy drop-off and pick-up
Four operating rooms with full anesthesia capabilities
Two minor procedure rooms
Waiting room with free coffee, a wireless internet "hotspot", and satellite television.
Please visit our CONTACT US page for a map and the ability to map your route.
From East: 490-W to 590-S to Monroe Ave. (exit 2A); Left onto Monroe, Right onto Westfall Road
From West: 490-E to 390-S to East Henrietta Road (exit 16B); Left onto EHR, Right onto Westfall Road
From North: 390-S to East Henrietta Road (exit 16B); Left onto EHR, Right onto Westfall Road
590-S to Monroe Ave. (exit 2A); Left onto Monroe Ave, Right onto Westfall Road
From South: 390-N to (exit 16); Rt. 15A/East Henrietta Road; Right onto EHR, Right onto Westfall Road