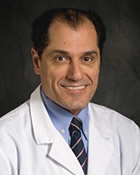 Cornerstone Eye Associates
585-328-0153
Omar Hanuch, M.D., F.A.C.S. Office Location
2300 Buffalo Road
Bldg. 700
Rochester, NY 14624
(585) 328-0153
About Omar Hanuch, M.D., F.A.C.S.
After graduating with honors from the National University of Cordoba Medical School in his native Argentina, Dr. Hanuch completed a General Medical residency in Chicago's Hinsdale Hospital/Rush Medical School. He then completed a Post Doctoral Research Fellowship in Cornea and Refractive Surgery at the University of Rochester under the direction of Dr. James Aquavella, followed by a Surgical Ophthalmology Residency at the same institution.
His involvement in Refractive Surgery is reflected in important peer reviewed scientific publications in leading Ophthalmology journals. During this period, the National Eye Institute awarded him for his contributions to this field.
Dr. Hanuch is Board Certified in Ophthalmology and Family Medicine. He is a Fellow of the American Academy of Ophthalmology and The American College of Surgeons. He is a member of multiple professional associations including the International Society of Refractive Surgery as well as the American Society of Cataract and Refractive Surgery.
Dr. Hanuch is a Clinical Assistant Professor of Ophthalmology at the University of Rochester and has been actively involved in Refractive Surgery since its FDA approval in 1995. He brings his experience and the latest advancements to Cornerstone Eye Associates as they prove safe for his patients.
Furthermore, Dr. Hanuch is dedicated to providing compassionate care with state of the art technology in the diagnosis and treatment of patients with visual concerns. He welcomes any questions you might have about ways to improve your vision through refractive surgery.