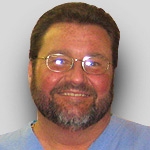 Westside Podiatry Group
(585)506-9790
919 Westfall Road
Bldg C Suite 130
Rochester NY 14618
(585) 506-9790
2236 Ridge Road West
Rochester NY 14626
(585) 225-2290
507 Beahan Road
Rochester NY 14624
(585) 247-2170
Dr. Daniel Caiola was born and raised in Rochester, New York. He attended Gates-Chili Schools, and received a Bachelor of Science Degree with a major in biology from St. Bonaventure University. He then headed to San Francisco, where he attended the California College of Podiatric Medicine, graduating summa cum laude and was inducted into the Pi Delta National Honor Society. Subsequently he completed a surgical residency program in Los Angeles, California. He then returned home, joined Westside Podiatry Group, and has served the Rochester Community for nearly thirty years.
Dr. Caiola is Board Certified in foot and ankle surgery by the American Board of Podiatric Surgery and is a Fellow of the American College of Foot and Ankle Surgeons. He is on the staff at Unity Hospital, Rochester General Hospital and Westfall Surgery Center. Dr. Caiola is a past president of the Monroe County Podiatry Society and Western New York Division of the American College of Foot and Ankle Surgeons. He has been chairman of the Podiatry Section at Park Ridge Hospital and is a member of the New York State Podiatric Medical Society.
His special interests include bunion surgery and joint implant surgery.